ABOUT RTL 'OUR STORY'
RTL Plumbing was started in 1948 by three mates – Alf Reynolds, Len Trezona and Graham Lister, whose office consisted of a garage on Graham's property in Bulimba.
Since purchasing the business in 2004, current owners and husband and wife duo, Ben and Kate L'Estrange have grown the business to over 75 Team Members. RTL Plumbing expanded trade service offerings to not only include plumbing but also gas fitting, roofing, pipe relining as well as commercial refurbishments and fit-outs throughout Brisbane and the Gold Coast.
Fast forward from our initial inception over 70 years ago, to July 2019. RTL are excited to announce a change to our business name. From July 1st 2019 RTL will be recognized and operating as "RTL Trades". The reason for this change is to allow for growth to incorporate trade industry services outside of what we are currently known and renowned for, such as Electrical Services.
For a more in depth look at the history of our business we invite you to explore our historical timeline.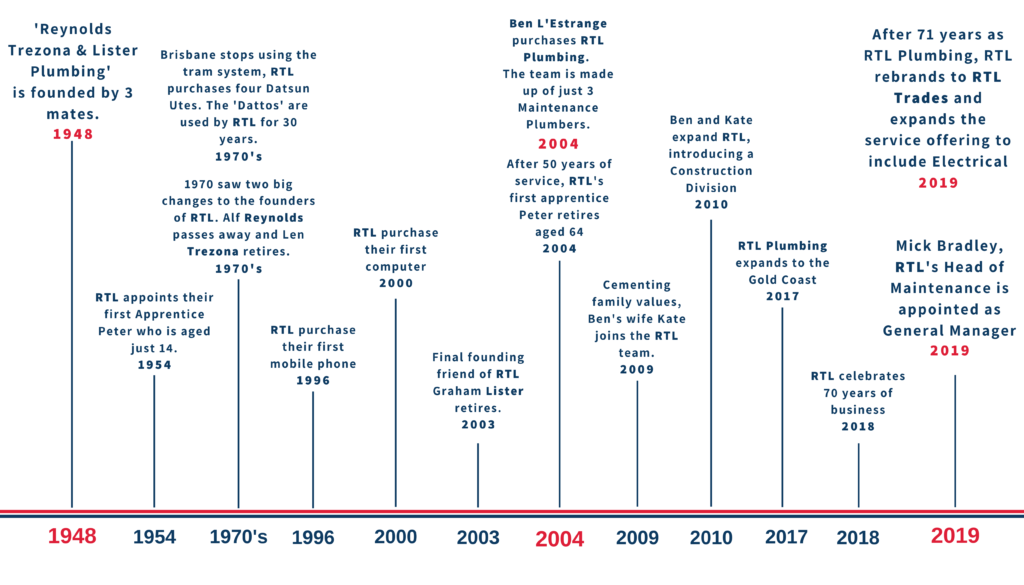 We are RTL: Our People are our Business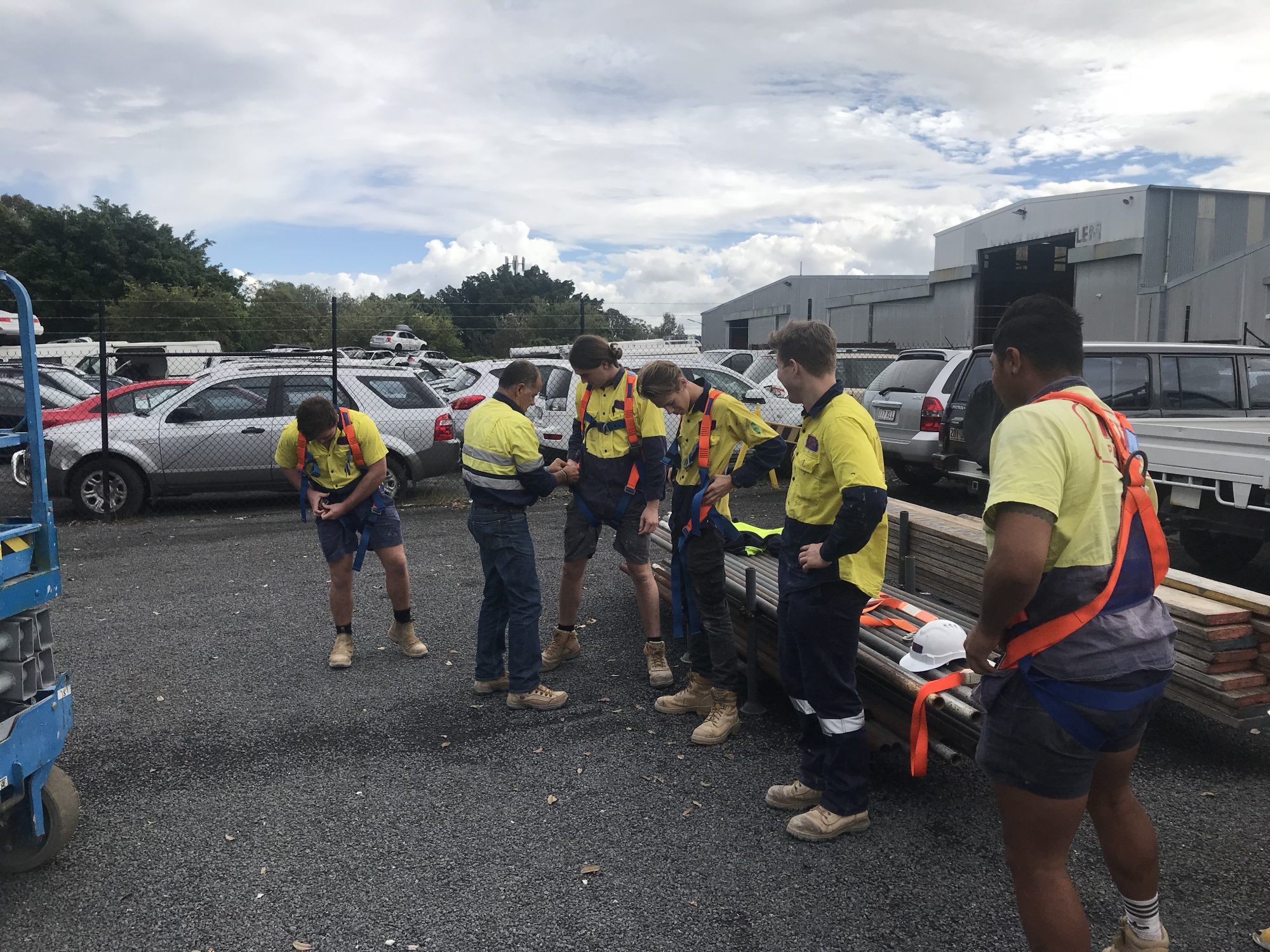 Health and Safety is at the heart of everything we do.
Safety is fundamental to how we do business at RTL and we believe that successful projects are safe projects. Above all, nothing is more important than safety. We ensure safe work practises, and that the RTL Trades Team look after themselves and their mates to ensure every day is a safe day, to achieve our "Zero Harm" objective. We maintain a Work Health and Safety Management System to enable compliance with AS/NZS 4801, that covers the activities of our operation.
The RTL Culture
Employee Wellbeing and Mental Health – we take employee wellbeing seriously and we are committed to fostering a balanced "worklife" environment. We ensure every employee enjoys a healthy balance of work and family life. Most importantly, this essential mix is pivotal to ensuring happy employees. Therefore minimising the risk of workplace injury and reducing staff turnover.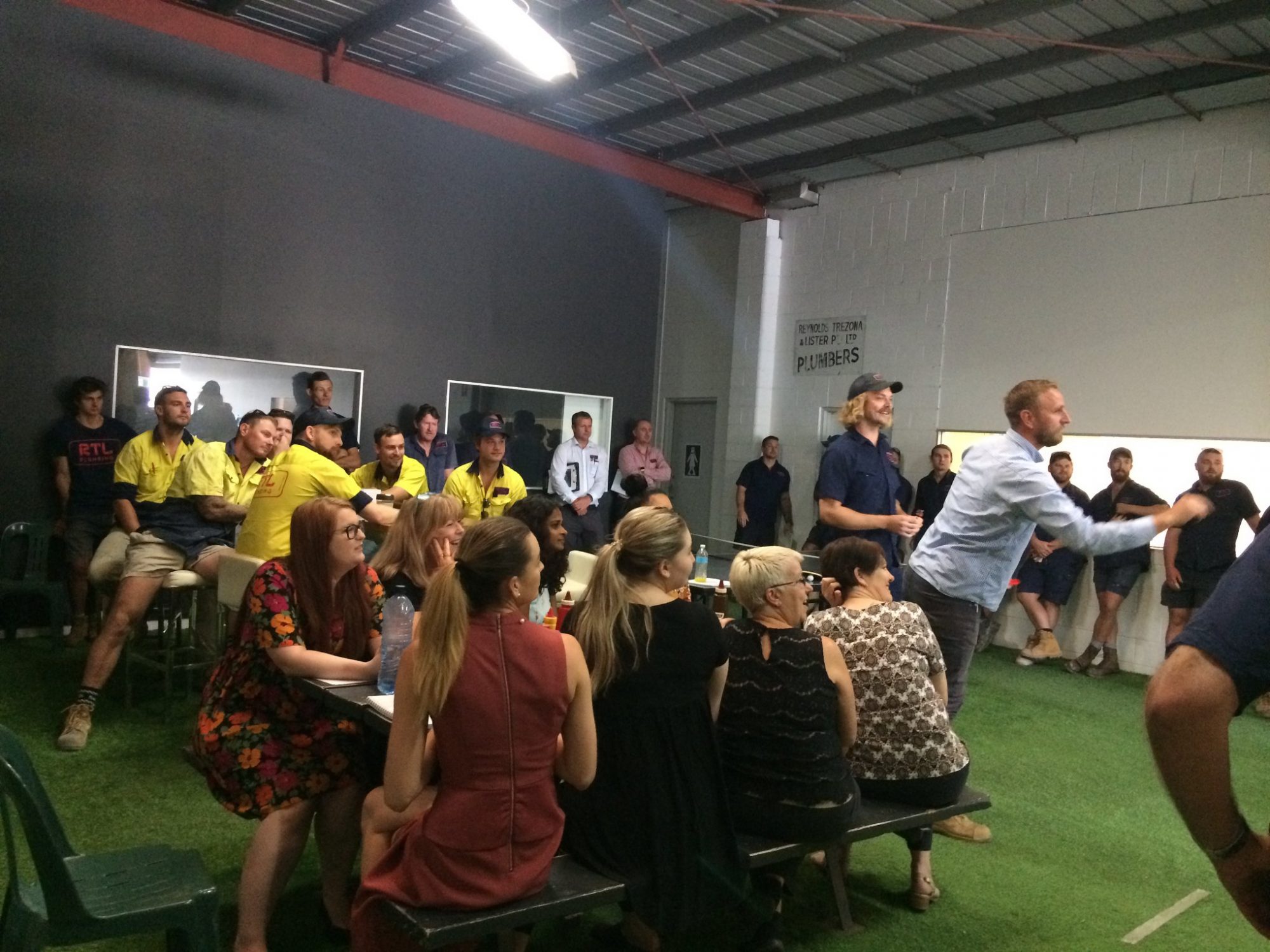 Training & Development: Investing in our people.
Advancing in industry is easy when you harness the passion, drive and enthusiasm of a talented team. Our people are our most valuable resource, and we invest in our employees through ongoing training and development. For Instance, we provide frequent opportunities for skills development and nurturing our future leaders.
Toolbox Talks – regular Toolbox Talks meetings are a place to collaborate and innovate. We actively encourage team participation, and use our toolbox talks as a place to recognise and reward success, provide training and development and further enhance our culture.
Apprentices – we have a strong belief in the fostering of new industry talent. RTL offer our apprentices the opportunity to take on challenges in a safe and experience-rich environment.
We encourage and facilitate the continual learning and improvement of all our team members. Above all, training presents a prime opportunity for RTL Trades staff to expand their knowledge base on safety, technical and product advancements within the industry. In short, this allows us to arrive at your site armed with the knowledge on how best to rectify whatever problem you're having and how to carry out the required work in a safe manner.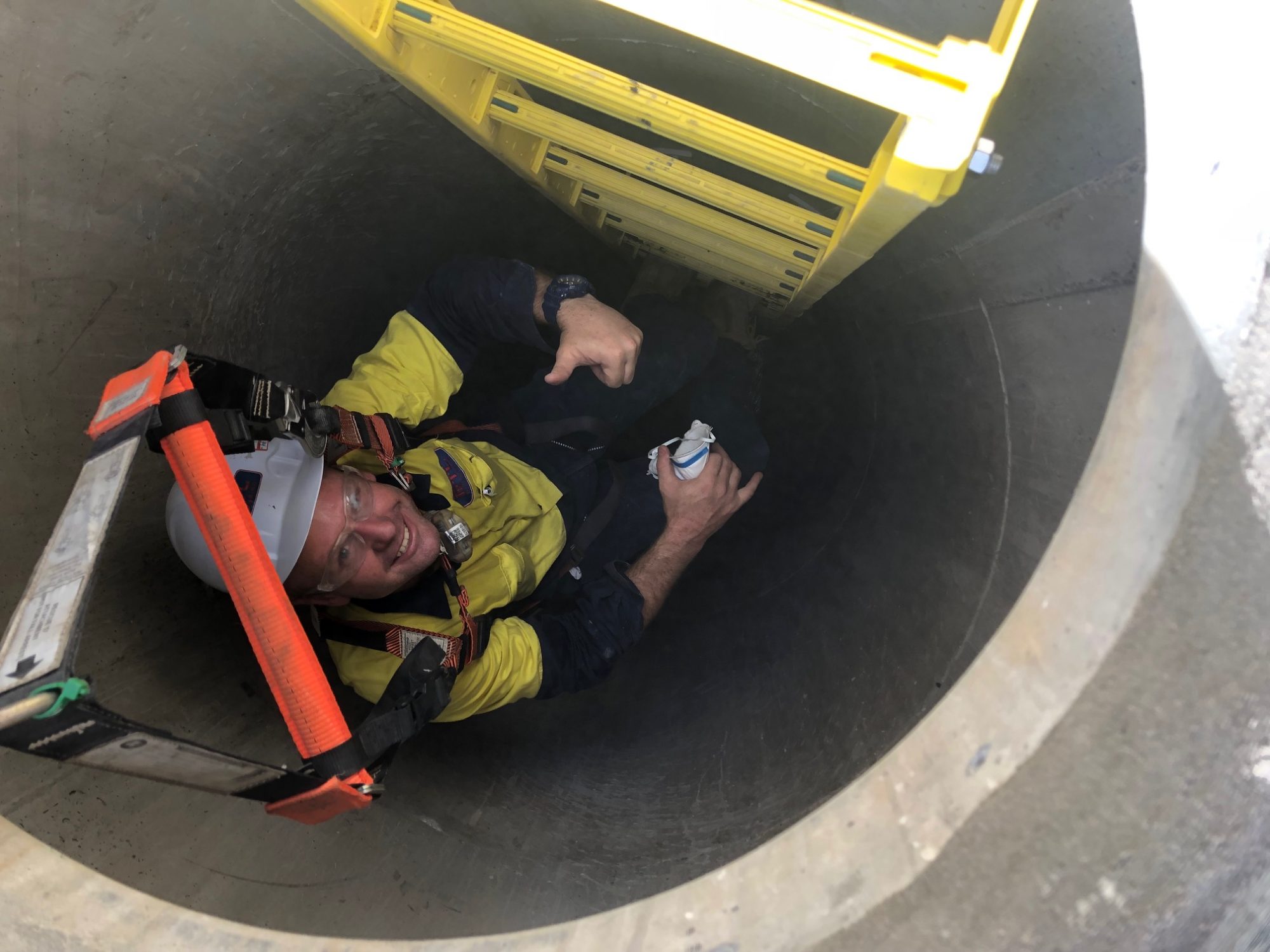 Work Health and Safety (WHS)

First aid

Working at Heights Training

Confined Space Training

Gas Certification

RPZ and Backflow Testing and Collaboration

Aerial Work Platform (EWP)

Product and material knowledge

Australian Building Management Accreditation (ABMA)

CM3 Certified
Community & Charity
RTL Trades are proud to give back to our community, through sponsorships, donations and volunteering. We love to help out where we can and find joy in investing in the communities around us.
RTL Trades beneficiaries include:
Wesley Mission Queensland – Mental Health Services and Hardship Relief Services
Red Bag Appeal Campaign Christmas 2018 and 2019 – Exclusive Red Bag Sponsor. Over 110 bags donated from RTL and our generous clients.
Christmas Gift Wrapping at Westfield Chermside 2018 – contributing in raising over $25,000
Bridge to Brisbane 2018 and 2019 – RTL sponsored T-shirts for the 'Wesley Warriors'
Trek To Connect 2019 – Our Team took part in a challenging, marathon distance trek to raise funds for mental health and collectively raised over $61,000.
Bulimba and Districts Meals On Wheels – On our 70th Birthday in May 2018, we supported our Bulimba-local charity by donating $1 for every coffee sold at our favourite local coffee haunt – Hawthorne Garage. In conclusion, the campaign was a great success and we donated $800 which went towards Bulimba and Districts Meals On Wheels own special milestone – their 50th Birthday Celebrations.
Mental Awareness Foundation – Walk for Awareness participants since 2017.
Act For Kids – Supporting Capitol Body Corporate's charity of choice since 2015.
Movember Foundation – Supporting the Men's Health Charity since 2015.
Proud Sponsors of GPS Rugby Club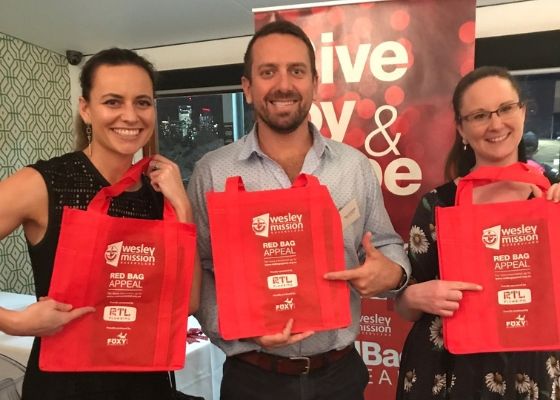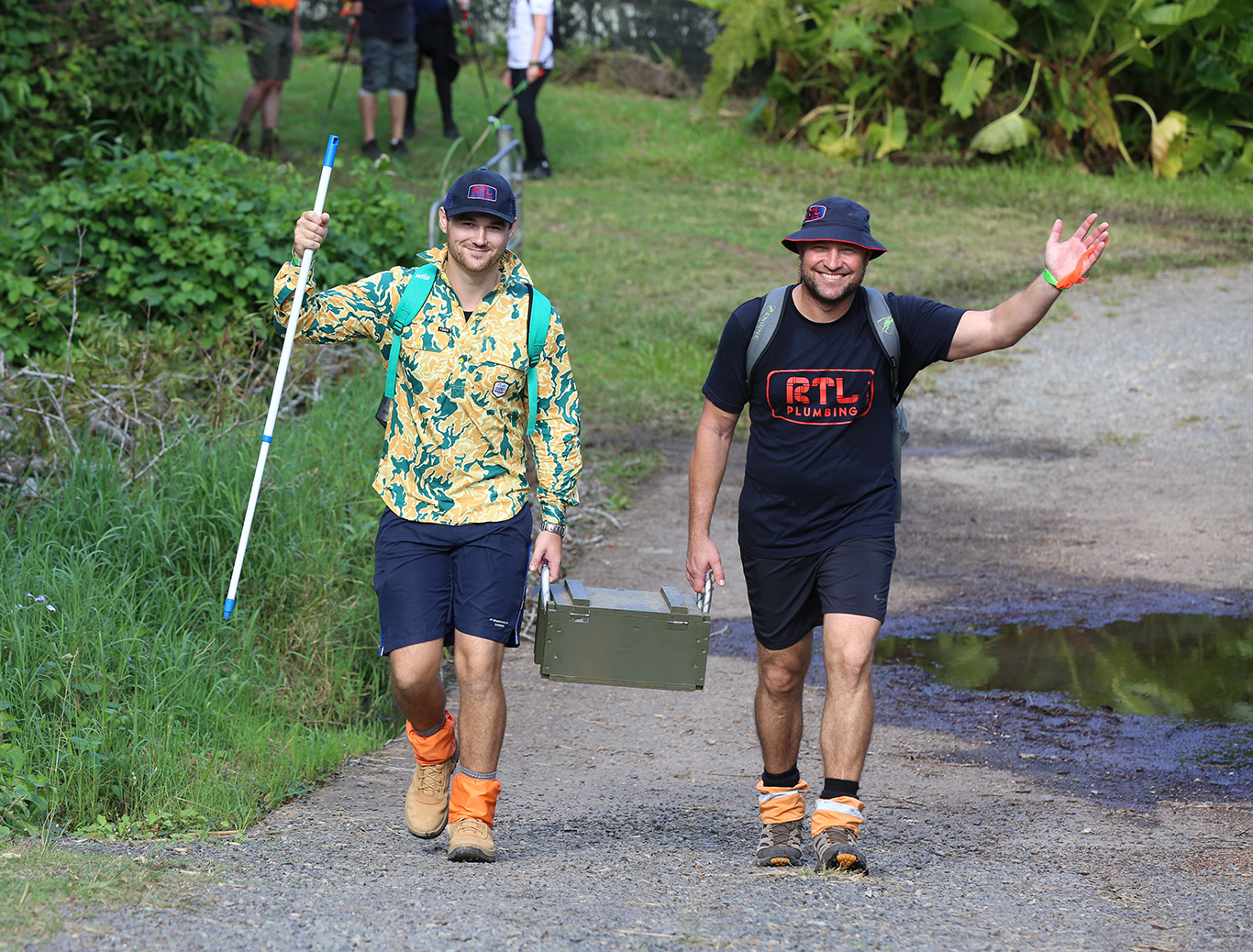 The hallmarks of our service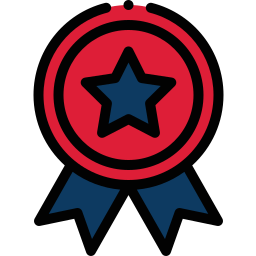 Professionalism, Quality & Excellence
We strive for quality to achieve excellence in everything we do.
Customer Focused
We understand and focus on the needs of our clients. We are dedicated to meet those needs with a sense of ownership and urgency.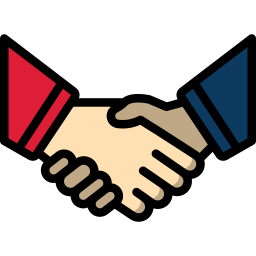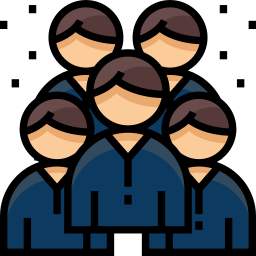 Teamwork & Commitment
We share and leverage our collective talents to achieve greater results.
Knowledge & Skill
We aim for continuous improvement and learning through building and sharing our knowledge and skills.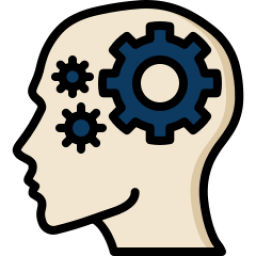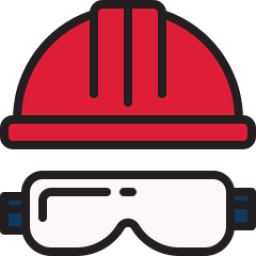 Safety
We protect and enhance the wellbeing of our people, projects, communities and environment
Honestly, Trustworthy & Transparency
We act honestly, consistently and ethically at all times.